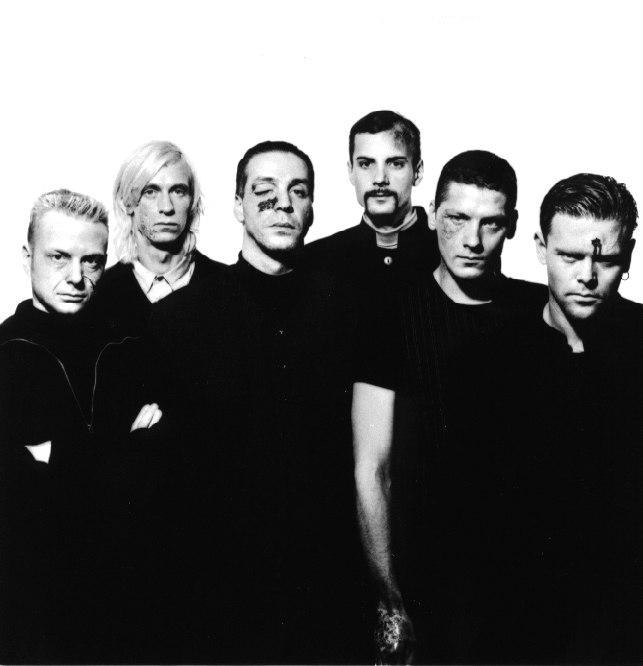 Visitor #
What do you get when you cross Nine Inch Nails with Metallica in Berlin and then torch it all up into flames?
Rammstein!
This death metal/techno band from East Germany first got noticed in the United States by appearing on the Lost Highway Soundtrack. This initial flirtation of their Armageddon-style music was followed up with the band's latest CD, "Sehnsucht." They can be currently seen on Mtv as a buzzclip with the video for "Du Haste" and have a track on the new Depeche Mode tribute album, "For the Masses."
Rammstein has a big following in it's homeland, where they play to sold out halls and theaters. Their first CD, Herzeleid, was a german only release but can be found in cool music stores in the U.S. This CD kicks serious ass so grab if you can lay your hands on a copy!
Rammstein has briefly toured the States and plan to tour again in the fall of '98. As one who has seen them live (San Francisco with only a few hundred people), I have to say these guys are awesome!
If you are already a fan of Rammstein, then enjoy what I've been able to collect here on this site. If you have not given the band a spin yet, I highly recommend you go buy their music now!!

This site owned & designed by:

Shra Dude Inc,

"Simple designs for great business"

This site is best viewed with:
This The unofficial RAMMSTEINring site owned by Shra Dude.
[ Previous 5 Sites | Previous | Next | Next 5 Sites | Random Site | List Sites ]